McDonald's leads the ranking of brands in the consumer's mind
The results of a regional survey conducted by LATCOM show that the fast food company is leading Top of Mind for spontaneous visibility in OOH.
Through an online survey methodology, LATCOM collects OOH visibility metrics, from its customers and competitors, in major Latam cities. With waves of 1,500 bi-monthly cases, McDonald's proves its leadership as Top of Mind in markets such as Rio de Janeiro, San Pablo, Mexico City, and CABA.In addition to measuring OOH assets, their wide difference compared to their main competitors was also detected.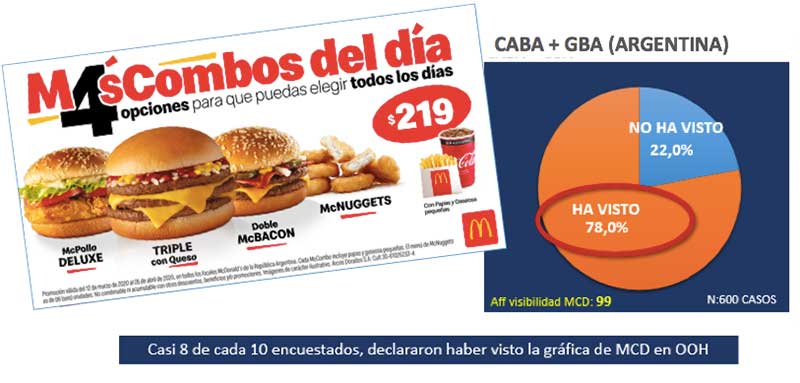 McDonald's leadership is well established in Brazil and Argentina, as can be seen in the above charts. This is specifically visible in Argentina, where it ranked as the number 1 spot in June, October and December of last year. Additionally, 55% of respondents in Buenos Aires said they saw McDonald's campaigns spontaneously, but by showing the graphic piece, this percentage increased by 78% – thus resulting in a performance of above average levels.
On the other hand, it was also possible for viewers to see the effectiveness of each of the elements strategically located on public roads. This placed large formats and urban furniture as fundamental pieces in the media strategy.
This constant research reaffirms LATCOM's commitment to McDonald's as its main strategic support in OOH advertising. By carrying out its campaigns with a mix of indoor, outdoor, digital and means of transport media, LATCOM focuses on the attributes of quality, recognition and differentiation that identifies the fast food chain around the world.